Alberto Rigoni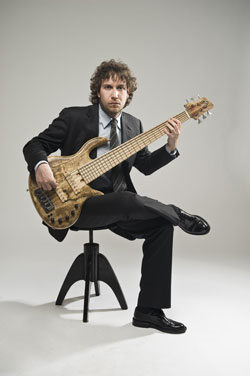 Alberto Rigoni is an italian bass player and composer who's rapidly gaining audience in the international music scene thanks to his modern and fresh sound, far away from any well known music cliché.
Besides his solo career, Alberto is also known as member and bass player of the progressive metal band TwinSpirits and founder of the new pop electro duo Lady & the BASS.

Born in Montebelluna (Treviso, Italy) in 1981, bass player Alberto Rigoni founded, together with drummer Enrico Buttol, a well-known progressive-metal cover band, "Ascra", performing mainly songs by Dream Theater. In 2003 he joined the emerging band "Twinspirits" (progressive rock metal), led by Daniele Liverani (Genius Rock Opera, Khymera, ex-Empty Tremor). The band's debut album "The Music That Will Heal The World" was released worldwide in 2007 by Finnish label Lion Music and received remarkable feedback. Besides Twinspirits, Rigoni followed a very personal artistic way, composing a solo album entitled "Something Different", released by Lion Music on February 15th 2008 with worldwide distribution. At the same time Alberto shot a video of his hit song "BASSex" (working with Italian company "Solingo Visual Arts") directed by Elia Cristofoli. The video was broadcast on some television networks such as RockTV.
In 2009:
- became endorser for Aguilar Amplification, Elrick Bass Guitars and HipShot Products;
- Lion Music label released the new Twinspirits album "The Forbidden City" (september 11th);
- as guest recorded some bass tracks for Gianni Rojatti's new guitar solo album "Dolcetti Metal Beat" (released by Heart of Steel Records in 2010);
- together with Italian singer Irene Ermolli began a new musical project called "Lady & the Bass" (pop-electro-experimental). Federico Solazzo (keyboard player for the world famous singer Alexia) joins the project as artistic co-producer.
In 2010:
- composed and produced his new solo album that features also great musicians such as Gavin Harrison (Porcupine Tree), John Macaluso (Ark, ex-Malmsteen), Michael Manring, Yves Carbonne and many others great musicians;
- became endorser for Ernie Ball Strings (Mogar Music, Italy), Evidence Audio Cables, Comfort Strapp and Sonuus products;
- completed Mistheria's "Dragon Fire" album line-up recording the whole CD. The album's personnel in full is: Vocals - John West, Mark Boals, Rob Rock, Titta Tani, Lance King. Guitars - George Bellas, Roger Staffelbach, Emir Hot, Neil Zaza Bass - Alberto Rigoni. Drums - John Macaluso;
- as guest recorded 2 bass tracks for Russian keyboard player Sergey Boykov's new solo album;
- Emmeciesse Music released Lady & the BASS first single "Quirky Girl". The track received widespread airplay on Italian radio during the summer and it has also been selected for a compilation CD that Gruppo Coin/OVS (one of the leaders in Italian fashion retail) broadcasts in the numerous shops they own in Italy and abroad;
- Lady & the BASS released "Quirky Girl" videoclip (directed by Iride Video);
- Twinspirits released "Number One" video clip (directed by Salvatore Perrone);
- on november 28th appears at Euro Bass Day 2010 (Verona, Italy) with "Lady & the BASS". Special guests of 2010 edition, amon the others: Bobby Vega, Brian Bromberg, Billy Sheenan, Pippo Matino, Simone Vignola, Maurizio Rolli.

In 2011:
- signs with Nightmare Records (SONY / RED Distribution) for the release of his new solo album "Rebirth";
- Twinspirits release "Slave to this World" official video clip from the new album "Legacy" (out on february 18th by Lion Music);
- became endorser for Dingwall Bass Guitar.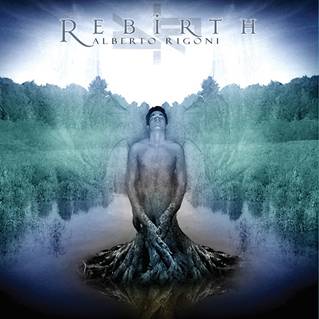 Alberto's latest album, Rebirth, is available on 23 May 2011. Alberto used the Sonuus B2M for composition and scoring on this album. The album can be pre-ordered from Nightmare Records, or from Amazon (all countries).
Alberto's comments on the Sonuus B2M / i2M musicport:
"Sonuus products are unbelievable. I can convert the sound of bass (and not just that) into MIDI without any special pickup loaded. Absolutely useful! A must have! Thanks Sonuus, you changed my life."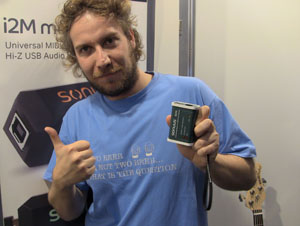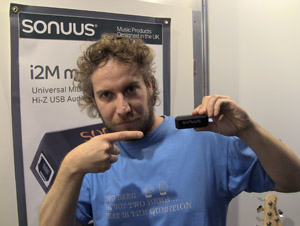 Alberto's Links
Videos
Here are some videos of Alberto reviewing with the B2M and i2M musicport. The B2M review is in Italian.