Dan Hawkins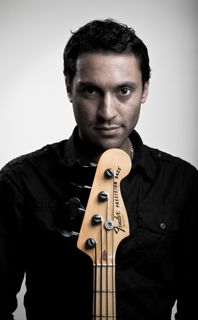 Dan Hawkins is a busy, in-demand bass player from London. He is known as a tasteful musician who loves groove and feel and playing what is right for the song. His recent credits include Martha Reeves and the Vandellas, Katie Melua, Les Miserables (West End) and Luke White.
He has worked on a wide spectrum of situations from TV sessions, radio, festivals and arenas to teaching, workshops, theatre pit bands, touring, recording and composing for TV.
Dan picked up the bass aged 11 and had his first professional gig within two years. He learnt to read music from day one whilst playing in groups performing a variety of music from Dream Theater, Chick Corea and The Red Hot Chili Peppers to The Yellowjackets and even Mussorgsky (!) He was introduced to the playing of James Jamerson and Jaco at a very early age and these diverse influences have moulded his playing style today - a style based firmly in groove and the fundamentals of bass playing with the technical ability to step out when required.
Dan runs a successful online bass recording website where he records for musicians from across the globe using his dazzling array of vintage and modern gear. He plays 4,5 and 6 string fretted and fretless basses as well as electric upright, synth bass and upright bass.
Dan's comments on the Sonuus i2M musicport:
"I use the i2M mainly to trigger synth bass sounds whilst playing bass lines. I love playing keyboard synth bass but I find that the i2M allows me to really express myself on my favourite bass whilst getting some awesome tones (usually Moog at the moment!). The tracking is great and it is a great tool for live and studio use. I mainly use it in the studio for some of the online sessions I do"
Dan's Links
www.facebook.com/onlinebassplayer
www.youtube.com/danhawkinsbass
www.twitter.com/danhawkinsbass