DESTRAGE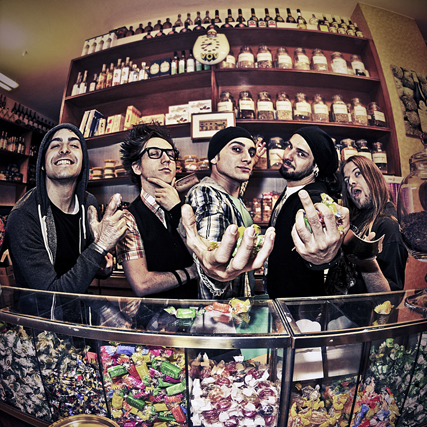 Coming from Milan, Italy, the band Destrage pops out with a music, visual and live attitude that can be described as "We do what we want, fuck me, fuck you".
Destrage takes a big deal of being authentic and honest.
Anyway, if you really need to hear some prepacked description made out of popular music genres, so you'd be more confortable understanding what the band does, say Destrage is a variegated mix of Modern Metal, Rock'N'Roll, Math Core and Progressive Rock, you name them. An incredible mix of speed, technical skills, humour, core, sickness through melodic, insane and killer songs.
The current formation formed in 2006, after Self Id Generator promo was done. A few months later the band signed a japanese deal with Howling Bull.
The first full length, Urban Being, have been published in Japan in 2007.
In 2009, after the band signed a contract with Coroner Records Urban Being has been published worldwide.
Finally the five member could focus on the new title, The King Is Fat'N'Old, so they locked together into a house and set a huge board on the wall, filled it up with Post Its, each one containing a musical idea, and then destroyed and re-composed the puzzle up many times. The crazy result was published in Japan (2010, Howling Bull) and in the World (2010, Coroner Records).
In 2011, right before touring Japan, Destrage arranged and played a few songs on Imaginary Flying Machines, a cover album featuring the best songs from Gibli Studio animation movies. Ponyo was a success.
All albums so far are produced, mixed and mastered by Ettore Rigotti at The Metal House studios.
DESTRAGE's comments on the Sonuus i2M musicport:
"This amusing little device is just perfect for arranging, recording and even writing midi partitures directly fron your instrument on your computer, whether you are settled in your studio, on the fly or sitting in the back of a tour bus.
Just plug your guitar, open up a sequencer, apply some plugins and play your music, note down your new ideas directly in tracks while you are recording, and change the way they sound as you wish.
Sonuus i2M sends audio and midi signals together to your computer. You won't need any power plug, protools hardwares or other complications. Infact you'd never need to write down midi partitures using your keyboard and mouse again."
DESTRAGE's Links
Visit Destrage official website www.destrage.com.
Destrage shot their videos and do their designs themselves, visit The Jack Stupid for more art.
Videos