Jason Carter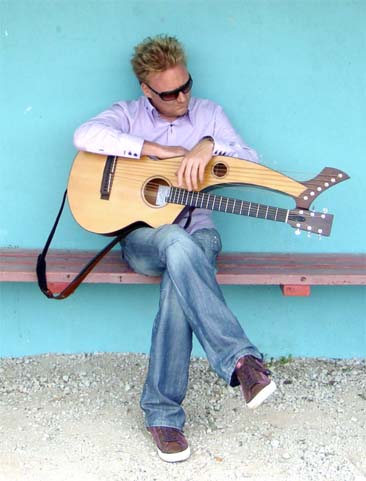 British guitarist Jason Carter has performed in more than 70 countries, mainly as a solo guitarist. His compositions are a unique blend of styles and influences that he has absorbed whilst 'on the road' , although there are distinct influences from the Middle East and India. Through various tunings, he is able to capture a vast array of colours and atmospheres.
Jason is committed to using music in situations and areas where there is conflict, as music, and in his case, non-verbal music, can be a magical bridge builder between cultures and individuals. Jason has performed in countries such as North Korea, Iran, Northern Ireland, Saudi Arabia and Bahrain, and was present in these countries when there was either local conflict, or issues regarding security and stability which could have been a concern to the global community. Recently he has been working along Café Diplo in Singapore, planning new events in 'Buildng Bridges Through Music'.
Collaborations are also vital in Jason's musical life, and he believes that collaboration is possible between any musical style, providing the artists involved are willing to listen, build bridges and communicate. He has collaborated with musicians from all over the world, including musicians such as Nigel Kennedy, Michael Manring, Hossam Ramzy, Maire Brennan (Clannad), Phil Keaggy, Antonio Forcione, Gordon Giltrap, Steve Lawson, Babik Reinhardt (son of Django Reinhardt), Nick Beggs Steve Bingham, Vishnu Sanju Sahai and Sting's guitarist Dominic Miller. The most recent collaboration is with Marjan and Mahsa Vahdat, 2 Iranian singers whom Jason met at the Freemuse conference in Istanbul in 2006. The Nobel Peace Prize Foundation in Norway are partly sponsoring a tour for them commencing March 2008.
Jason has recorded 15 albums, for EMI (USA), Bohemian Productions (USA), Sony (India), ARC Music and ASV Records UK. His latest disc for Naim Audio (UK), the 'Helsinki' Project, is the result of three years' work, a collaboration between Jason and other artists from Finland, UK, Germany, Holland, Australia, USA, Morocco, Egypt, India, Afghanistan and Senegal. Jason has appeared on compliations alongside artists such as John Schofield, Alan Holdsworth, John Paul Jones (Led Leppelin) , Trey Gunn (King Crimson), Ozzy Ozbourne, Joe Satriani, Larry Coryell, Steve Morse, Hariprasad Chaurasia and Trilok Gurtu. Aside from working on a new solo guitar CD in Finland, Jason is collaborating with Singer Natassa Mare in Greece, for a series of concerts and a recording project.
Jason has been playing the guitar for almost thirty years. He is predominantly self-taught but has attended Master classes with guitarists John Williams and Paco Pena at the Royal Academy of Music. In 2001 he received a Music Award from the Crown Prince of Bahrain alongside 4 traditional Bahraini artists (Pearl Divers). Jason also received an Honorary Diploma from the Government of North Korea during his visit there in April 2007, in the name of 'peace and friendship'.
Apart from Jason's interest in 'World Music', he has also collaborated with 'Classical' musicians from the West. He has recorded the 'Boccherini Guitar Quintets' with the Bingham String Quartet, and performed the 'Rodrigo Guitar Concerto' with Orchestras from Finland, Ireland and UK. The Hong Kong Chinese Orchestra are also commissioning a Chinese Composer to compose a piece for Jason and the HKCO. Jason has also recently be collaborating with the Sir Yehudui Menuin Foundation in workshops in Spain, Greece and Denmark, and recently performed with the Prague Symphony Orchestra at Victoria Hall, Geneva.
Jason now also performs on an 18 string Harp Guitar, as well as the regular Spanish Guitar and is doing some interesting things with the Sonuus G2M.
Jason's comments on the Sonuus G2M:
"I am having fun with the converter, it s great. I have used it twice in concerts and have learned to control the flutes really well. My new Harp Guitar will be easier to use other sounds too."
Jason's Links
www.jasoncarter.net
www.facebook.com/jasoncartermusic
www.myspace.com/jasoncarterguitar
Harp Guitar Videos
Solo Guitar Videos