Lindsey Boullt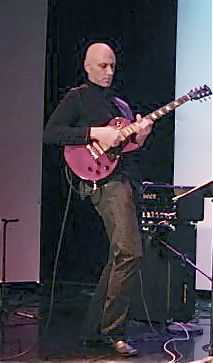 Lindsey Boullt - Rock Fusion-guitarist/composer/instructor. Performing and recording with some of music's finest artists: Jerry Goodman, Derek Sherinian, Ric Fierabracci, Joel Taylor, Stu Hamm, Greg Howe, Jeremy Colson, Ryo Okumoto, Mingo Lewis, Atma Anur, to name a few, and former guitar instructor at the famed Musician's Institute/GIT, Lindsey rocks on...
"Lindsey is a spectacularly creative and wildly talented musician, and I had the pleasure and honor of working closely with him. I was equally impressed with his monster guitar playing and passionate, eclectic compositions—both are evidence of a truly elite artist. ..." –Beth Marlis, Vice President, Musicians' Institute.
In June of 2007, Lindsey released the 10-song original work, "Composition". This innovative recording garnered critical acclaim from around the globe, including renowned music author and critic, Walter Kolosky. "…if any music is a product of the Mahavishnu legacy, this is it! (with Zeppelin & Shakti thrown in…) Very enjoyable and well done." –Walter Kolosky, Author of Power, Passion and Beauty: The Story of the Legendary Mahavishnu Orchestra.
Lindsey's forthcoming album (target date Fall 2011) featuring equally exciting musical thought, musicians, and technology, is utilizing the state-of-the-art technology of the Sonuus i2M musicport 'pitch-to-MIDI' interface, from Pre to Post-Production.
Lindsey's comments on the Sonuus i2M musicport:
"Incredible technology! I have just touched the surface of vast creativity that awaits. Infinitely valuable for composing, arranging, performance, pre & post production. The tracking is state-of-the-art. Sonuus i2M RAWKS!"
Lindsey's Links