Mark JK Lawrence

(Guitarist and composer)
Mark was born in Cornwall, UK and is currently based in Bristol. He began studying classical guitar at 14 but quickly found a great passion for playing blues, funk and rock music. Then, after hearing the music of John McLaughlin, Mark began to explore Jazz and Fusion music. His passion for this music burns just as brightly today. In addition to being a guitarist, Mark graduated with BA(Hons) in Creative Music Technology from Bath Spa Uni, having become proficient in sound design and computer music composition.
Mark plays regularly with jazz, funk, blues and experimental music projects which include:
'Diamond Dust' www.diamonddust.info - a powerful, electric and groovy trio which fuses Jazz and Psychedelic Rock in the mode of the incredible Tony Williams Lifetime & John McLaughlin.
'Elles Bailey Band' www.ellesbailey.com - guitarist with up-and-coming singer Elles Bailey and her awesome blues-fuelled, rockin' and soulful music.
'Monkey Chuckle' www.monkeychuckle.co.uk - an explosive seven-piece funk band which has been heard on Craig Charles' Funk & Soul Show (BBC Radio 6) and in support for The Apples and The Haggis Horns.
...and has appeared at festivals including Secret Garden Party, Oxford Jazz Festival, Cheltenham Jazz Budvar stage, Teignmouth Jazz Festival, Bristol Harbour Festival, Sheep Music Festival and at numerous clubs dates across the country.
What Mark says about the Sonuus Wahoo:
"To my mind, the Wahoo is a true revolution in wah and filter effects, not just for guitar but for any electric instrument. The quality of sound is unsurpassed, the hardware is robust and can be controlled precisely. The huge range of presets are all well thought-out, useable straight out of the box and potentially cover everything you might ever need.
However, the really clever part is the elegant simplicity of the user interface which allows a mind-blowing range of sonic possibilities to be explored. With a few mouse-clicks or by turning a couple of knobs it's possible to transform a simple wah from a subtle expression effect to unleashing a fat, honking fuzzy funk fest... Couple that with beautiful phasing filter effects, vocoder-style vowel sounds, pitch-tracking technology and the possibility of syncing with MIDI... the possibilities are vast. I'm blown away by this pedal!"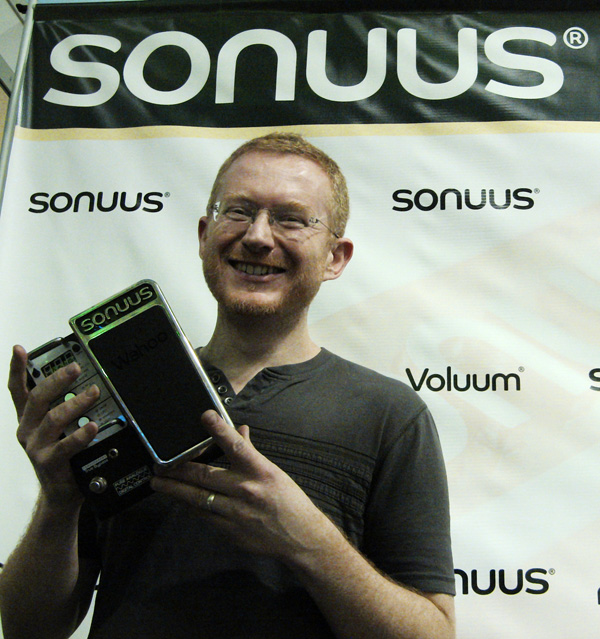 Mark's links
www.twitter.com/markjklawrence


Mark's videos
Check out some great Wahoo action!