G2M—Universal Guitar to MIDI Converter
New G2M Version 3 introduced in 2016. Guitar | Bass | Voice
Any electric guitar can be used as a solo MIDI guitar
Also works with bass, voice and wind instruments
Really is plug-and-play
Fast & accurate
Near zero latency
In 2009, the G2Mô was launched and it rocked the guitar world. For the first time guitarists could access MIDI sounds with the same ease as a keyboard player.
Two years later, we updated the G2Mô to give it a substantial boost in performance (Version 2).

Now, 7 years since we introduced the original G2Mô a new benchmark in accessible MIDI Guitar has been created: the Version 3 G2M. It includes several significant improvements, all whilst preserving the trademark plug-and-play usability of the original.


New in Version 3
Latest state-of-the-art pitch-to-MIDI algorithms by Sonuus
Guitar, Bass, Voice and Wind (replaces the older Sonuus B2M and G2M)
20dB more headroom compared to the previous G2M and B2M
More convenient power: single AA battery instead of a PP3
Option to use a 9V DC power adapter: pedal-board integration
DIP switches inside battery compartment for configuration
MIDI-In feature: MIDI hold, sustain and volume (using special breakout cable)
Key Features
The G2Mô is a simple-to-use, highly effective, guitar-to-MIDI converter. It is ďUniversalĒ because it doesn't need a special pick-up mounted on your guitar, but instead simply connects to your guitar like any other effects pedal or tuner.
Designed to give accurate triggering, with very low-latency, it is a true plug-and-play solution for monophonic MIDI guitar. It can be used to sequence bass lines and guitar solos add an edge to your live performances ó it opens up many creative possibilities.
Any electric guitar/basscan be used as a solo MIDI guitar/bass.
No instrument modifications or special pickups required.
Robust note detection ó minimises wrong notes.
Fast, accurate pitch-bend determination, or chromatic mode.

Very low latency & very fast tracking.

Built-in precision tuner for standard guitar/bass tuning.
Battery-powered with long battery life.
Compact, lightweight and portable.
Universal Appeal
No modifications are required to your guitar; no special pickups to install; and nothing needs to be ďstuckĒ onto your instrument. It works with all electric guitars.
The G2Mô universally appeals to all guitarists from novices to seasoned professionals. Keenly priced to fit any budget, with the robust reliable performance expected by the finest stagemen.
Incredibly simple to use:
Plug your guitar or bass or microphone into IN to power-up the G2Mô

Connect your MIDI device (or computer) to the MIDI OUT

Play notes on your guitar and MIDI will be sent out!
Powered from a single AA battery, its long battery life combined with small size makes the G2Mô the ideal accessory to keep with your guitar. Not only does it provide fast and precise tuning, but it also gives you instant MIDI capability for any electric guitar!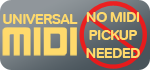 "The MIDI solution for all guitarists"

Robust Performance
Research has shown us that the most important aspect for pitch-to-MIDI conversion is reliable and reproducible triggering of notes. While low-latency is important, robust triggering is the key to usability ó you can easily adapt to some latency, but you cannot adapt to random, spurious notes. The G2Mô gives you both!

By virtue of the unique, inherently robust technology used in the G2Mô you will be able to reliably generate accurate MIDI quickly and easily. Notes are generated exactly as played, and the nuances of your performance are captured with fast, accurate pitch-bend data.

Built-in Tuner
The built-in tuner uses our PULSARô tuning technology where the power LED doubles as a tuning indicator. This innovative tuner gives you a fast and accurate way to tune your guitar.
Instrument Thru
Featuring a high-impedance input circuit, the G2Mô won't sap your tone when using it "in-line" before your amp, or other effects pedals. You can then easily combine MIDI sounds with your normal guitar sound for some exciting musical possibilities.
Improves Playing Technique
For optimal MIDI conversion, your guitar playing needs to be clean and accurate. Accidental notes, resonating open strings and other sounds can often be converted into undesired MIDI notes. Often you donít hear these when playing guitar yourself, but can detect them easily when listening live to the generated MIDI.
Striving to improve MIDI note accuracy, encourages clean picking and accurate fingering, with good control over non-sounding strings by damping them.
Not only will your MIDI output be more accurate, your normal guitar playing will sound clearer and more professional. Itís like having a tutor sitting beside you giving you advice. Itís also great fun!

Most of all, it's Fun!
When you try the G2Mô and generate some new sounds, the first thing that strikes you is how much fun it is. Unleash new creative inspiration and invigorate your soul.
See our guide to using your G2Mô.
Note: the G2Mô doesn't include its own MIDI sounds, you must use a suitable MIDI synthesizer, sound module or your computer to record or to hear the MIDI output.