Wahoo—Analogue Multi-Effects Pedal
Fully analogue signal path
Transparent true bypass

100 factory presets
100 user presets
Wah pedal
Vocal wah
Bass envelope filter
LFO (auto) wah
Stepped filter
Pitch-tracking filter modes.
Wah pedal | touch wah | auto wah | vocal vowel wah | pitch wah | funky bass envelope filter | stepped filter | phaser | overdrive | synth sounds... and everything in between

The Wahoo combines two beautiful-sounding analogue filters with digital control giving you full access to a sonic pallette previously only available to skilled analogue circuit designers. With one pedal you have an English wah sound, and American wah sound, and everything in between. You can even program the frequency response of the heel and the toe position. It's a phaser, envelope filter, a pitch-bend triggered wah, step filter, overdrive and much more. You can even choose any vowel sounds. Forget about using hidden pots and jumpers to adjust your analogue sound. With the Wahoo you can instantly adapt the analogue circuit's response to create the sound and feel you desire. And with 100 factory presets and 100 user presets, you always have the sound you need at your fingertips.

The wide frequency range (10Hz - 4000Hz) and resonance range (flat to self-oscillating) and built-in overdrive of the Wahoo filters mean almost any wah pedal or filter sound is available. From low-Q, dark rock sounds to clean country twang to bubbly resonant bass envelope filters. But why stop there? The Wahoo lets you go beyond the standard sounds and create entirely new sonic signatures. Craft your perfect vowel-based vocal wah, or explore the unique Sonuus pitch-wah where the wah actually follows the bends of your notes. The Wahoo has the capability and ease-of-use that lets you explore your own ideas quickly.

Engineered for longevity, Sonuus' unique custom-designed, patented InfiniQ pedal sensor delivers the smoothest possible sonic response and superb reliability. Unlike other wah pedals, the Sonuus InfiniQ sensor is based on technology used in the toughest of industrial environments, it's unaffected by dirt and grease and is guaranteed never to wear out. Combined with the Wahoo's robust cast-aluminium case and modern electronic design you can be assured of years of trouble-free operation.

The Wahoo pedal does everything you wished a standard wah wah pedal could do. I've found it inspirational in the writing and recording process - something that rarely occurs nowadays with a new bit of equipment.

Adam Wakeman (Black Sabbath)
Quick Start Video Guide
This Quick Start video guide shows you how versatile the Wahoo is and how easy it is to adjust the sound and save it as a preset.

How to connect the Wahoo

How to select presets

Listen to some factory presets

Introduction to basic editing
Change filter frequency range
Change filter Q
Select low-pass and band-pass mode

Change pedal response (curve)

How to save a preset

Warm Organic Tone
By using an analogue filter topology based on vintage synthesizer filters, the Wahoo™ generates a warm tone with an organic feel. Something that's not possible using digital effects.
A drive control lets you gently overdrive the filters to increase the warmth or crank it up to get fuzz-wah tones.

I own 3 other wah's Dunlop, Ernie Ball, Ibanez. I think they end up for back up or for sale. The Wahoo is in my opinion what a wah pedal should be or can do... (next day)... In fact I sold my cry baby three hours ago.

Innovate
Packed with innovations, the Wahoo™ lets you invent new sounds.
Unique patented InfiniQ pedal sensor for super-fine precision control that will never wear out.

Transparent-True-Bypass giving all the benefits of true-bypass without the switching noise.

Dual-filter design allows enhanced sonic possibilities that have more depth and are more vocal-sounding than most other filter pedals.

Sonuus pitch-tracking technology provides novel pitch-tracking filter effects.

Response curves let you tailor the feel of the filter response.
Replicate
The filters have a wide frequency range of 10 Hz – 4 kHz, and wide resonance range from flat to self-oscillation. Moreover, resonance is not fixed, but can be varied dynamically so it can track the cutoff frequency to further expand your creative possibilities. Combining this with drive, response curves and variable envelope filter attack/decay allows you to replicate the sonic character of many vintage and modern wah/filter pedals.
Create
It's simple to tweak settings on the carefully designed control panel. Once you have created what you want, you can save it to one of 100 internal presets.

I saw the screenshot of the software editor today and nearly had a heart attack, I have never seen a pedal with such a cool editor before!

Perform
As well as being ideal at home or in the studio, Wahoo™ has special features that make it perfect on stage. The sturdy, lightweight aluminium chassis, paired with modern robust electronic design ensures that the Wahoo™ will stand up to the demands of the toughest gigs. The large bright display is readable outdoors but can also be dimmed when required in low-light environments.
A lock switch ensures that settings cannot be changed accidentally in the heat of a performance, but still allows you to select which preset to use. Foot-operated selection of presets lets you access what you need with minimum hassle.
Powered by 9VDC, 4xAA batteries or USB, and with modern-yet-retro styling, you can be sure Wahoo™ will fit into your rig.
Setlists - take control of your gig
A comprehensive setlist feature lets to take control of your gig: have the presets you need where you want them and when you need them.
Unique patented InfiniQ pedal sensor
Most wah pedals operate using a potentiometer (a pot) which wears out quickly resulting in the effect becoming scratchy. These also have mechanical couplings which limit fine control and let dirt inside the unit, so compromising reliability.
Some other wah pedals use optical methods which are susceptible to dirt, and these also have mechanical couplings.
For the Wahoo™, we designed a brand new type of position sensor, InfiniQ, that allows super-fine precision control with no mechanical couplings. As a result, the pedal control on the Wahoo™ won't get scratchy and will never wear out!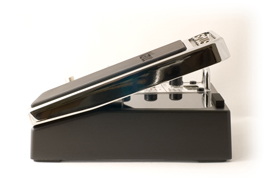 Transparent-True-Bypass
True-bypass means that the effect is completely switched out of your signal chain when bypassed to preserve the integrity of your guitar/bass signal. This is typically done by mechanical switches but these cause clicks or pops when switching.
For the Wahoo™, we designed a silent-switching true-bypass circuit so you get the benefits of true-bypass without the associated switching noise. What's more: if the power to Wahoo™ is interrupted, the unit will automatically switch back to the bypassed state so you don't lose your signal.
Computer Connection
A USB connection lets you connect Wahoo™ to a computer where the Desktop Editor Software allows visual preset editing and manipulation. Presets can also be save to, and loaded from, files for exchange with other Wahoo users.

USB-MIDI can be used to sync internal LFOs and to automate the filter parameters. The expression pedal also sends MIDI controller messages to drive software instruments and effects.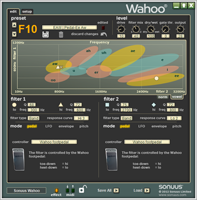 Future-Proof (Upgradeable Firmware)
To support new features and to make it futureproof, the firmware (internal software) of the Wahoo™ can be upgraded. This means you can invest with confidence in the Wahoo™.

Warm organic analogue tone.

Dual-filter design.

Digitally controlled with 100 expertly-crafted factory presets and 100 user presets.


Setlists simplify live performance.

Patented InfiniQ pedal sensor that will never wear out.

Transparent-True-Bypass switching.

Wah pedal, envelope, LFO and Pitch-tracking filter modes.

Future-proof upgradeable firmware.

9 VDC, 4xAA batteries, USB-powered.