G2M iOS app—Universal Guitar to MIDI Converter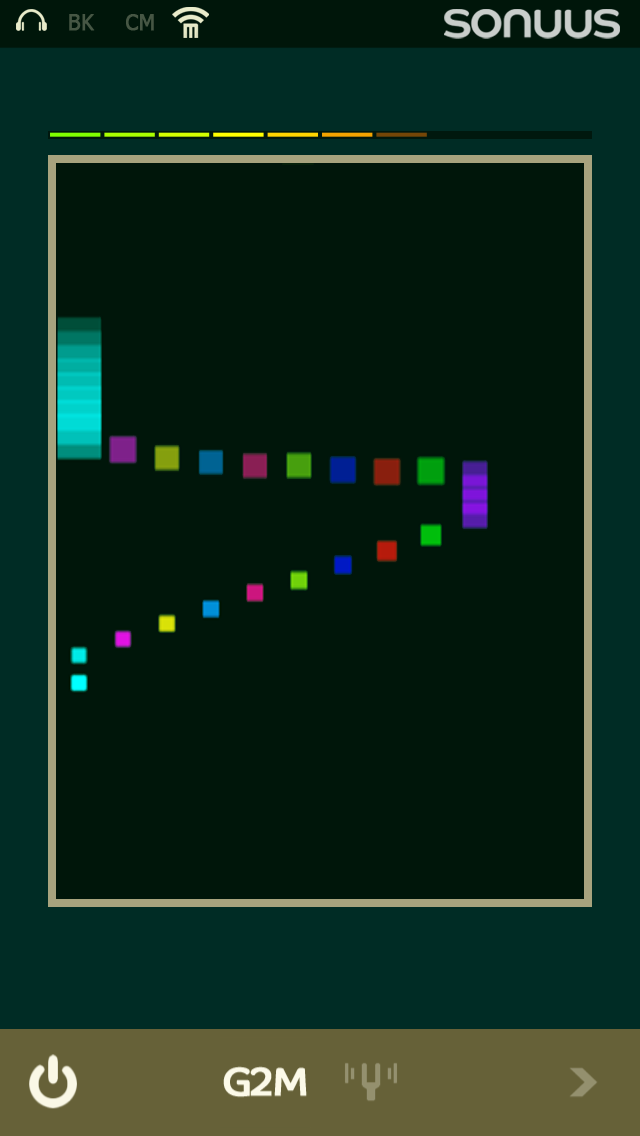 iPhone chromatic mode
iPhone pitch-bend mode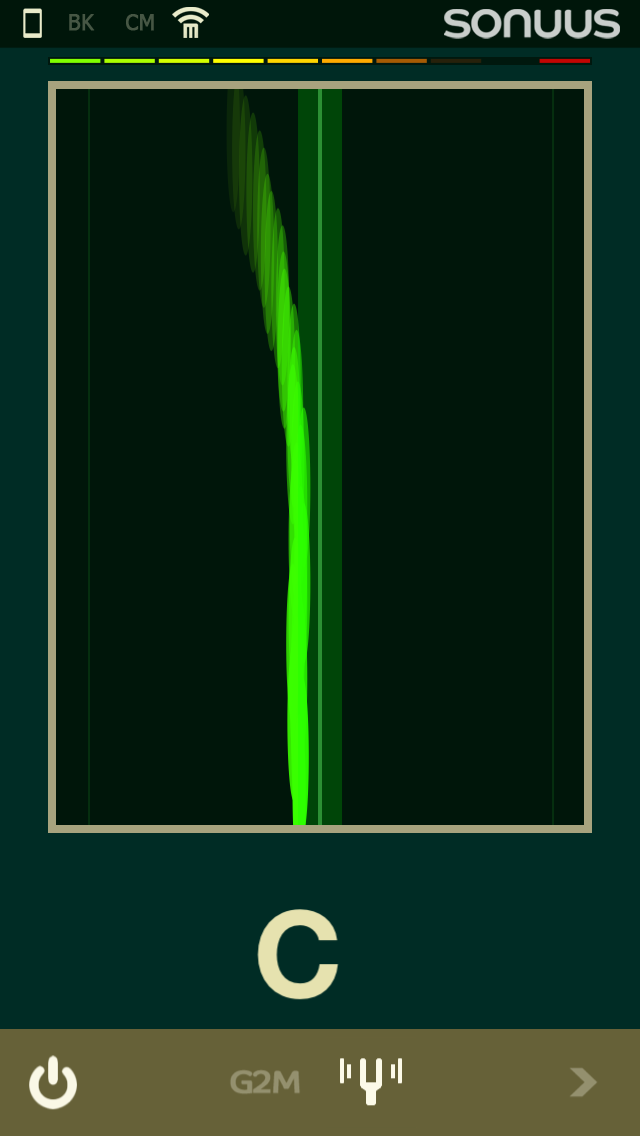 iPhone FLAME tuner
The Sonuus G2M - Universal Guitar-to-MIDI Converter app delivers high-performance, low-latency, MIDI conversion for guitar (and other musical instruments). Featuring the same pitch-to-MIDI technology used in Sonuus' acclaimed hardware products, the G2M app gives you an easy, low-cost way to enter the world of MIDI guitar.

In 2009, Sonuus rocked the music world with the launch of the G2M: a low-cost hardware MIDI converter that redefined how guitarists access MIDI instruments. Previously, the only solution was to add special pickups to your guitar, or use a specially-built guitar for MIDI. The G2M made it possible, for the first time, to use any guitar with MIDI, hence it's: "universal".
This G2M app gives you access to the same technology of the Sonuus hardware G2M:

Any electric guitar can be used as a solo MIDI guitar: i.e., it's universal.

No guitar modifications or special pickups required.

Robust note detection — minimises wrong notes.

Velocity detection of notes, so your playing dynamics are translated into MIDI messages.

Fast, accurate pitch-bend determination, or alternative chromatic mode.

Very low latency & very fast tracking.

Built-in, precise tuner.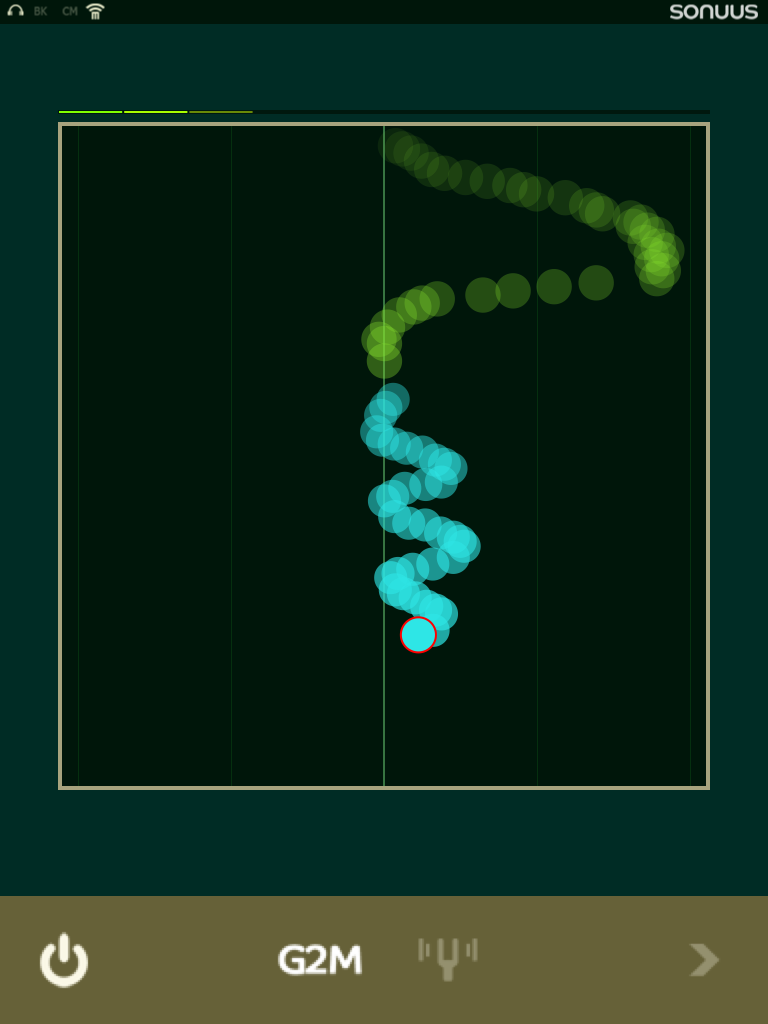 iPad pitch-bend mode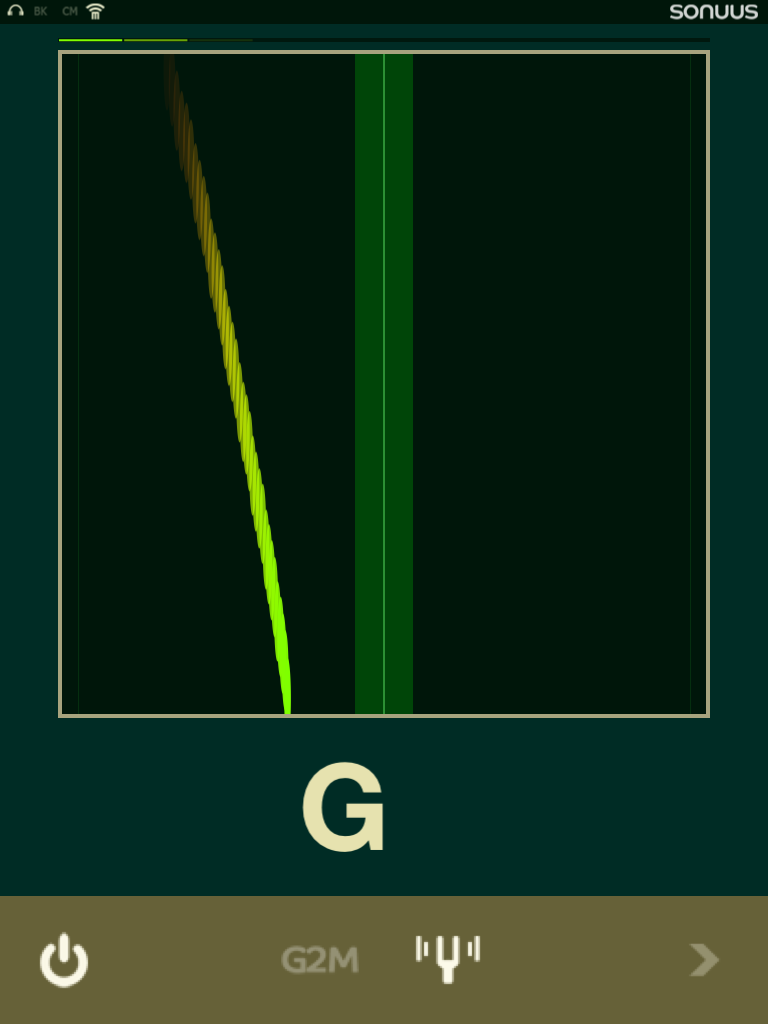 iPad FLAME tuner
These features combine to do something that no other MIDI converters can do: accurately capture the musicality and phrasing of what you are playing. Whether you want to lay down a MIDI bass line, or a saxophone solo, the G2M ensures the musical nuances of what you play are retained.
In addition, the G2M app:
Has very low CPU usage, so it can run in the background without affecting other music apps.

Can send MIDI to other apps (synths), over Wi-Fi, or to MIDI interfaces connected to the dock connector.

Displays a glorious user-interface showing you the real-time MIDI messages as they are sent.

Supports bass and guitar with a note detection range spanning from E1 (low E on a 4-string bass) to Bb6 (higher than a 24 fret guitar can play).
Wireless MIDI Guitar: you can send MIDI over WiFi with very low latency.

Comprehensive help

The app features extensive built-in help to describe all the features and help you troubleshoot any problems you are having. So if you have any problems, that's the first place to look!
Compatibility
To use the G2M app, you can use the built-in microphone but you get much better results by using an adapter that lets you connect your guitar directly to your iPhone, iPod or iPod Touch. For example, the i-ROCK adapter lets you connect your guitar to the mic/headset input. It will also work with any audio device that is supported by iOS.
In addition, the G2M app can send MIDI out of your iOS device via any MIDI interface supported by iOS that uses CoreMIDI.

The G2M app works with all iOS devices with OS4.2 and above: from the iPod Touch 2nd Gen to the latest iPhone and iPad.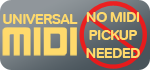 "The MIDI solution that doesn't need special pickups, and actually works!"

Notes

Note1: the G2M is monophonic, meaning it will only process single notes, not chords.

Note2: when a guitar is connected to the microphone input, the lowest guitar notes (below A2) may not be processed correctly because most devices have a high-pass filter on this input which rejects the low notes. To avoid this and access the full range of playable notes, you can use an audio input device that connects to the dock connector instead.

Note3: the G2M™ doesn't include its own MIDI sounds, you must use a suitable MIDI synthesizer, sound module or your computer to record or to hear the MIDI output.