G2M iOS app—Universal Guitar to MIDI Converter
Frequently Asked Questions
How does wireless MIDI work?
It uses a standard prototcol to send MIDI messages, in real-time, over your WiFi network. This is built-in to OSX, and iOS so it makes it very simple to send MIDI messages from your iOS device to your Mac.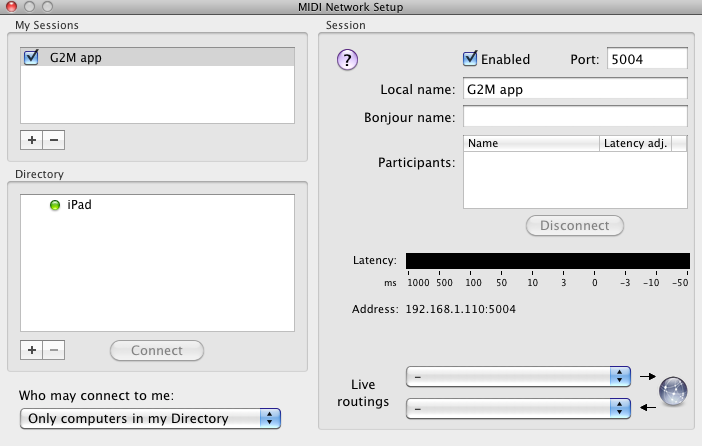 On your Mac, go to the Applications / Utilities folder and select "Audio MIDI Setup". If it doesn't open automatically, open the MIDI window by selecting: "Show MIDI Windows" from the "Window" Menu.
Next, select "Network" and the "MIDI Network Setup" window will appear. Your device should appear in the "Directory" panel.
Add a new Session (click "+" under "My Sessions"), ensure "Enabled" is ticked, then select your iOS device from the "Directory" panel and click "Connect".
Now your iOS device should be connected to apps on your Mac by a new virtual MIDI port.
But I use Windows, will it still work?

On Windows, support for this is not built-in, but there are several 3rd party add-ons that make this possible. We recommend rtpMIDI by Tobias Erichsen. This is configured in the same was as described above, but you should read the full instructions provided to get it working correctly.