Wahoo—Analogue Multi-Effects Pedal
Reviews
This is a summary of the reviews of the Wahoo in various Magazines, blogs and and online review sites.
---
Premier Guitar


Using a Fender Stratocaster and silverface Fender Bassman, I set up the Sonuus Wahoo side-by-side with a Crybaby Classic. The first preset on the Wahoo is dialed in to simulate the latter, and moving the rocker to the toe-down position activates the pedal with clickless engagement. To my ears, the Sonuus seemed the more precise and sensitive of the two units, with a broader range of sweep and brighter tone. The sensor technology is surgically accurate and actually feels touchy if you're used to the clunky dynamic of a standard wah.

The Sonuus Wahoo captures the spirit of simple synthesis, the vocal responsiveness of a great wah, and both classic and unusual modulation effects in a single robust design. What's more, it's extremely functional and easy to navigate, considering its depth.
---
Sound On Sound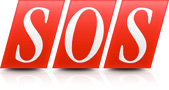 With such a range of modes, so many parameters and so much scope for adjustment, not to mention supplementary features like the built-in noise gate and the filter drive control, Sonuus do seem to have thought of everything — including, in the form of the pitch-controlled modes, something that nobody else has thought of before.

Wah enthusiasts will love how they can so easily conjure up a unique wah pedal precisely tuned to the resonant peak of their pickups and tweaked to drive the amp in just the right way. This alone would be enough to convince me of the Wahoo's merits, but it really is just the tip of the iceberg. For fans of all manner of filter-based effects — and particularly guitarists and bass players who like to explore synth sounds and create interesting sonic textures — this pedal is one you simply have to try for yourself.
---
Ultimate Guitar

This review features a lot of great sound samples!

Of all the pedals I've reviewed and demoed, I have never been as impressed as I am with the Sonuus Wahoo – and the software makes 'getting neck deep' involved fast and easy. I own several types of 'big name' wahs, and they have become obsolete in the presence of the black and chrome Sonuus Wahoo. A real 'looker', this pedal is incredibly diverse, easy to use, and offers so many usable pre-sets that you may not be tweaking right away.

I usually find a few weak spots when reviewing a product, but the Wahoo offers such enormous versatility and clear sound, that the only complaint might be to include a power adapter (not that I would need it with the USB option). Likewise, there is no one particular feature that stands out – Sonuus considered everything, from sound quality to its diverseness... and including the software, the overall package is quite inspirational to one's playing.
---
This review has some nicely thought-out sound samples showing some of the modes of the Wahoo.

The first factory preset is called Standard Wah, but "standard" doesn't do the sound justice. It oozed gobs of "Shaft" goodness and growl. Though there are wahs available that offer a few choices of Q and maybe some output control, nothing compares to the tweakability of the Wahoo.

In an era of companies, small and large issuing yet another version of the "same old same old" (Electro-Harmonix excepted), this is one of those rare entries into the effects market that is truly new. It is worth the price of admission even if you never use it for anything but a great sounding, extremely versatile wah and envelope filter. But, more important, this is a pedal that will allow creative personalities to come up with sounds hitherto unheard.

Wahoo indeed!
---
Bass Guitar Magazine


In the January 2013 issue of Bass Guitar Magazine (the UK's Number One Bass Guitar Magazine), editor Joel McIver enthuses about how good it sounds.

This British manufacturer reckons that you should splash out 250 notes plus postage on a Wahoo for two reasons. One, it offers a customisable tone interface with more options than any other standalone pedal at this price point. Two, it has sound shaping choices that are entirely new. We'd add a third advantage: the Wahoo is built like a tank.

Cleverly, the Wahoo has two analogue filters, which Sonuus claims create realistic vowel sounds and a more authentic 70s filter tone. Now, these claims depend on the user's ears and record collection, so we can't substantiate them for everyone - but we can say with confidence that the clear, expressive sounds on offer are astoundingly good.

It's rather a lot of options for one smallish box, and indeed, the more you learn about the Wahoo, the more you realise that £262 isn't that much after all.
---
Sonic State (Amped)

This review features an in-depth video showing the Wahoo from a bass-players perspective. Best listened to with good headphones so you can hear all that lovely low end.


An excellent sounding and incredibly well designed pedal that offers a unparalleled amount of adjust-ability that is more in line with analogue synthesisers than traditional guitarists stomp boxes. Don't let that put you off though as it is very easy to use and the clear layout means that even when the pedal is on the floor, you can see exactly what is going on. The software editor is the icing on the cake in this department as it is extremely well thought out and allows for an excellent editing experience. A highly recommended unit that should give the user many years of wah and filter action of the highest calibre!
---
Guitar Interactive Magazine


If you can imagine a filter sound it can almost certainly be achieved with the Wahoo!

The really great thing about the Wahoo is how inspirational the sounds can be - I can fully imagine using some of these sounds to write entire riffs or songs and after all, what else do we use effects pedals for if not to inspire us to be more creative? In this respect the Wahoo is highly successful and I very much recommend that you check one out!
There is an in-depth video review embedded in
this interactive magazine article
and we highly recommend you watch it.
If you can't access the article (it uses Flash), you can get it here: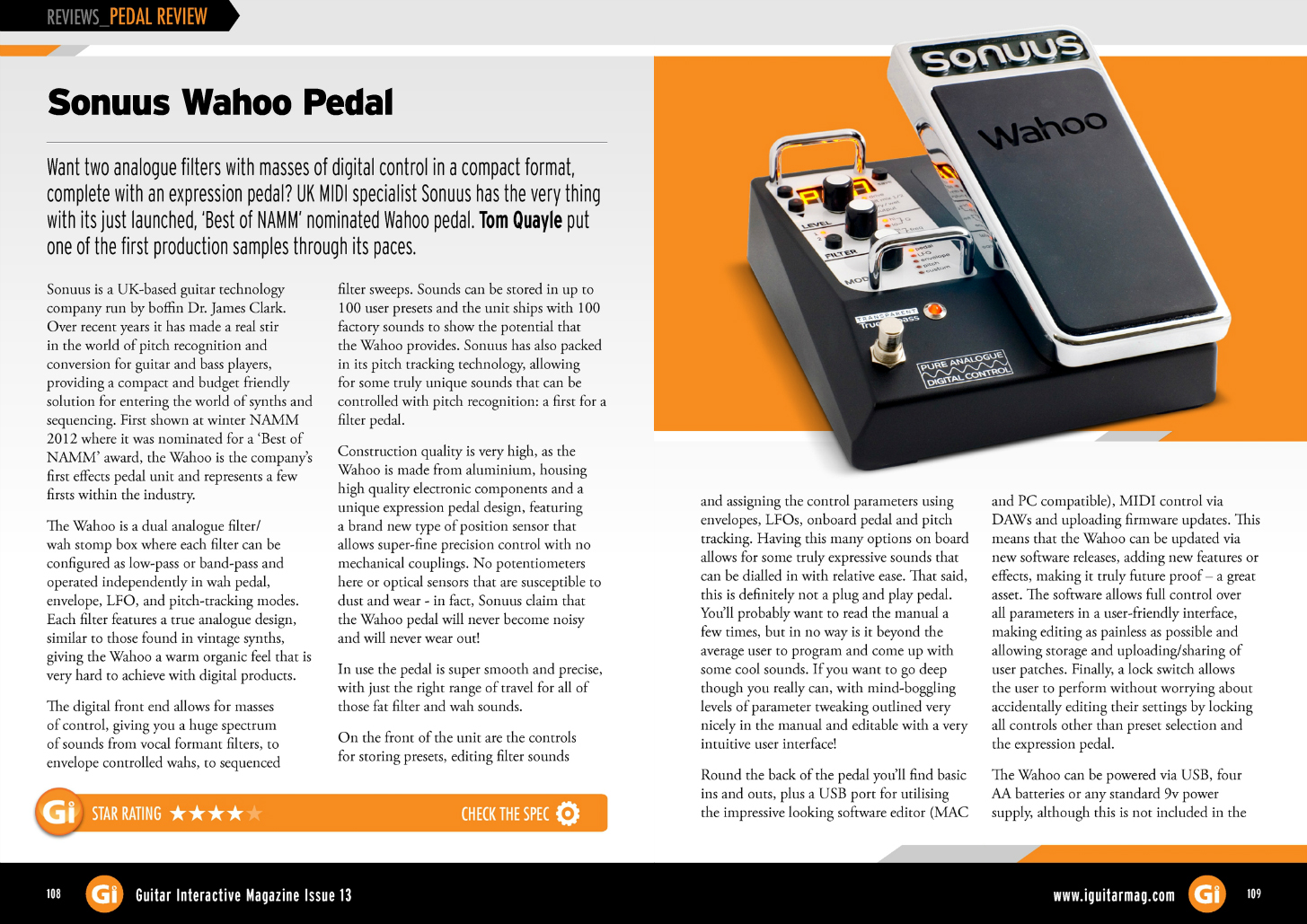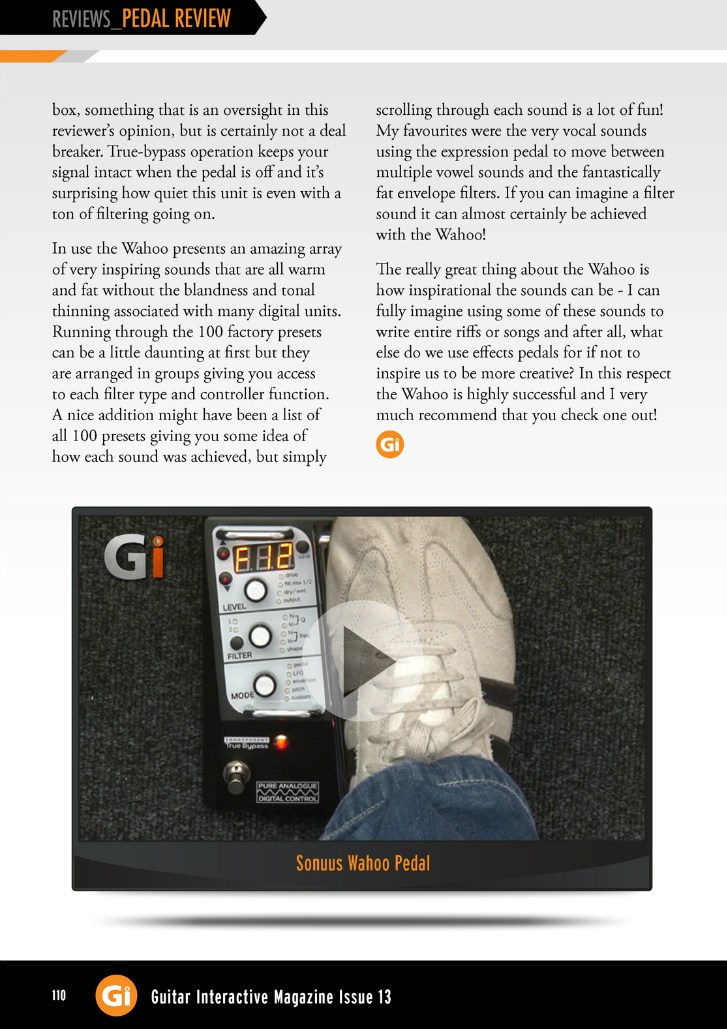 ---
Gear-Review.co.uk


There are many effects pedals, out there with all sorts of variations on classic effects others, also try and improve upon these into new formats altogether. The Sonuus Wahoo breaks the mould and introduces a game changing pedal and combines classic analogue warmth with the convenience of digital control.

Construction of the unit is superb reminiscent of a small tank, solid aluminium is used in black and chrome and the unit certainly looks like it will be apt for live use. Most importantly Sonuus have replaced the classic potentiometer found in most wah pedals with a precise position sensor which they claim will never wear out.

In summary a very interesting and groundbreaking pedal from Sonuus.